I don't know if you've ever visited Leigh-Ann's (LA) blog,
Freckled Nest
, but you should. She's adorable. She started a blog group called
4 Stories
, and anyone can join! You just write four short stories about your personal experience related to the topic that LA presents each week.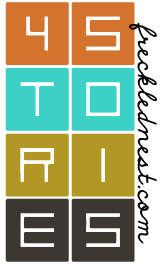 The first week's topic was swimming, and last week's was vintage, so I'm a bit behind. Oh well, let's start! Topic: Swimming
1. I started swimming lessons when I was about 5 years old. I liked it, but it was really scary for me. I hated that feeling of water up my nose, especially when I inhaled and then water got way up in my sinuses. I still really hate that to this day. It hurts. I also still remember the indoor pool where I took swimming lessons. It seemed so big and had really ugly florescent lighting.
2. When I lived in Iowa, my parents and I went to a huge water park. I wanted to go down this slide that led into a big pool. Little did we know that the water was deeper than I was tall, so when I went down the slide I slipped into the pool of water and didn't come back up. My parents started to panic as there were kids everywhere in the pool, but I was nowhere in sight. I don't remember what happened next, but someone jumped in and pulled me out.
3. In first grade, I attended a very small private school that didn't have a gym teacher, so we were bussed over to the public school for gym class. Our public school gym teacher was really crabby all the time. He was a scary man; how he got that job as an elementary school gym teacher is beyond me. We did a unit on swimming, and it seemed like all my friends were able to swim faster and better than me. Our crabby gym teacher told all of us to swim the length of the pool. I started out, but a few yards later, I realized how far behind I was and just couldn't go on. I started to panic and cry, so my crabby gym teacher pulled out a long pole and fished me out of the pool. It was SO embarrassing. I was the only kid out of 30 that couldn't swim well.
4. When I was 16, my family and I took a trip to Maui. My uncle and I wanted to take surf lessons. My mom wouldn't let me, so we stuck to boogy boarding. I got out into the water pretty far to catch a wave, but I really biffed it and tumbled in the wave underwater. I couldn't tell which way was up when suddenly I felt these hands pull me up to the surface. I moved my hair out of my eyes and looked behind me, expecting to see my uncle since I was sure he was the one who pulled me out of the water. But no one was there; my uncle was yards away. Good thing we just stuck to boogy boarding...
So, as you can see, I haven't had the best luck when it comes to swimming. I'm an okay swimmer nowadays; I've gotten over those fears of drowning and being laughed at by my peers. It's funny, the things we fear.
p.s. / by the way:
Have you ever browsed
Martha Stewart's websites
? Wowza. I could spend an entire day over there. Last week I tried out her
Parisian Macaroons recipe
, and it was a success! It was a lot of fun to make, and they looked
sooo
cute.
I am completely stuck on these
wedding cakes
. I love them. I almost want to get married JUST so I can serve them at my wedding.
Happy Monday, everyone!